Festival Antwerpen
August 2019 (Program)
This year 2019 carries good and bad news:
First, the bad news:
The Elzenveld Chapel will not be accessible this year.
In 2019, all buildings that housed this magnificent chapel was entrusted to a private contractor for very important work. The chapel will be closed. What a pity.
We will keep a wonderful memory of this very successful midday concert season.

And then, the good news:
Since we are not giving up on a good idea, we are going to present you three concerts at the Van Celst Institute, located at Sint Jakobusplein, 15, a charming neogothic chapel with a beautiful restored Merklin organ. A very nice place to discover.
Here is what we propose:
Three lunchconcerts, the first of which, on August 17, will open the 25th Antwerpse Orgelwandeling (25th Antwerp organ promenade). Two other concerts will follow: August 24th and 31st each time from 12.15 pm to 1.00 pm (according to the bulletin Calcant Courant n ° 68, Jan Van Mol)
August 17 at 12.15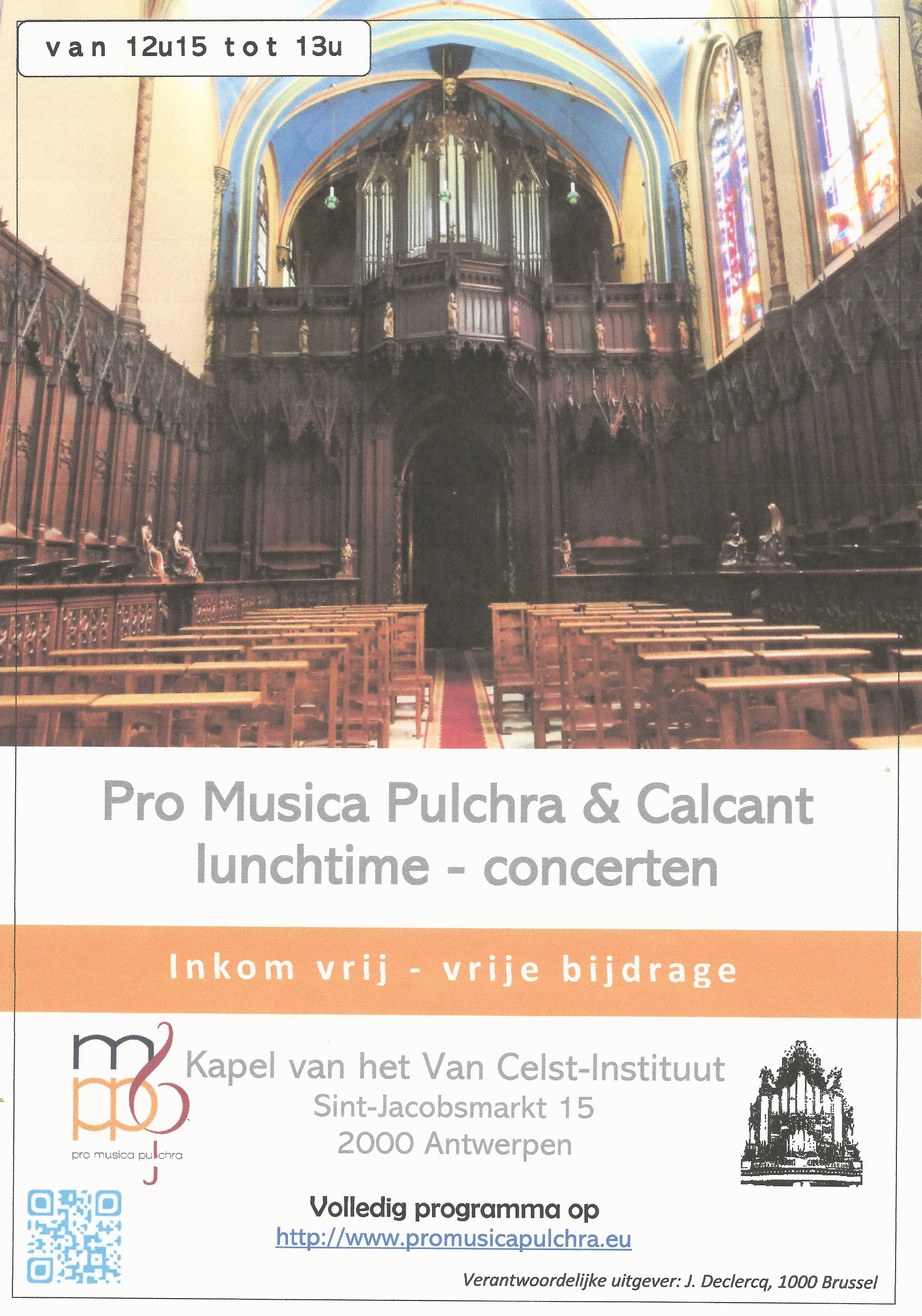 Jamie de Goei (Nederland)
Works by Louis Vierne, Alexandre-Pierre-François Boëly, César Franck, Jehan Alain
August 24 at 12.05
Tommaso Mazzoletti (Italy)
Works by Pietro Alessandro Yon
August 31 at 12.15
Tom Van der Plas (Belgium)
Works by Eugène Gigout, Alexandre Guilmant, César Franck, Samuel Sebastian Wesley, Georges Thalben-Ball, Johannes Brahms, Josef Rheinberger
August 17 at 2.00 pm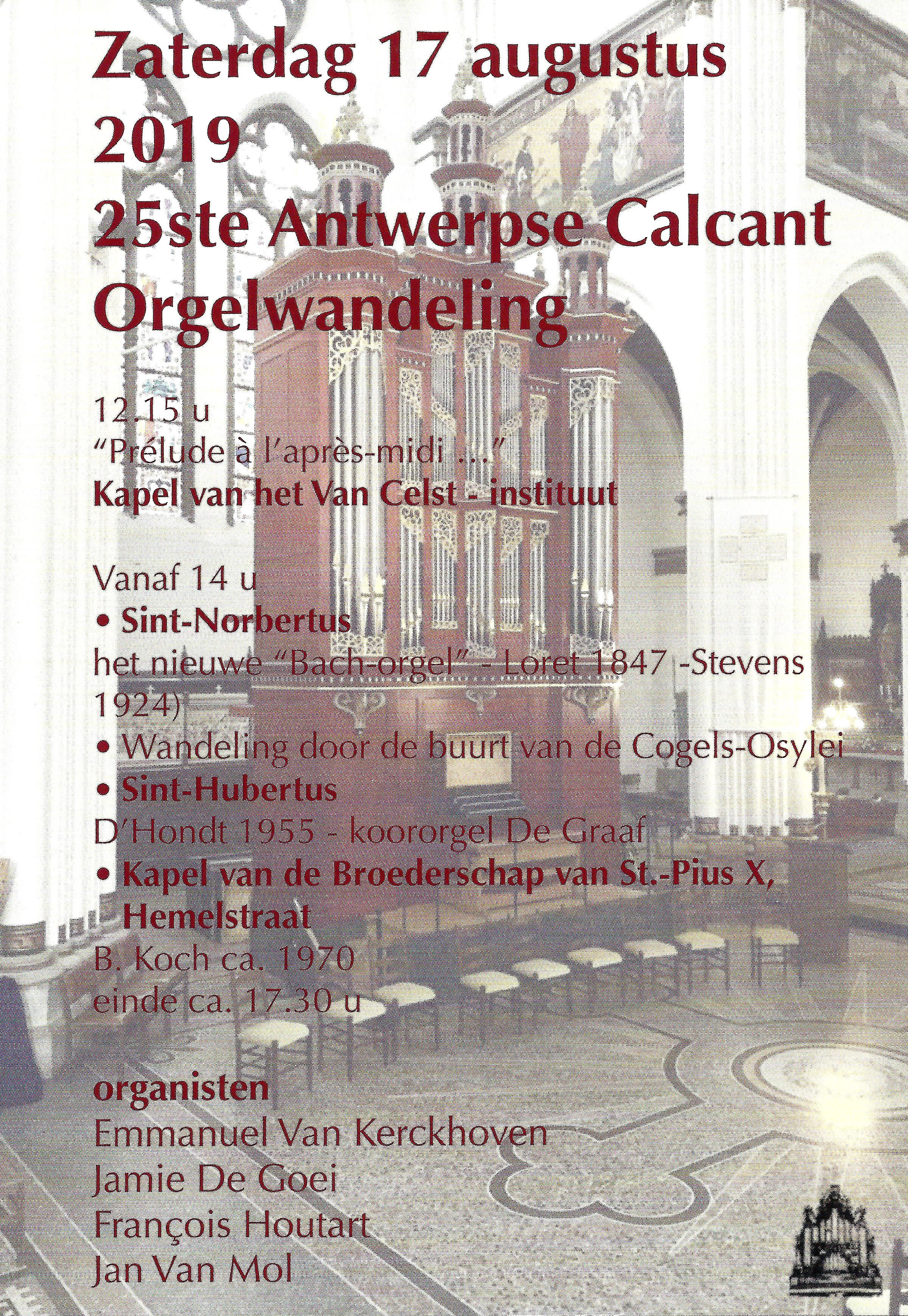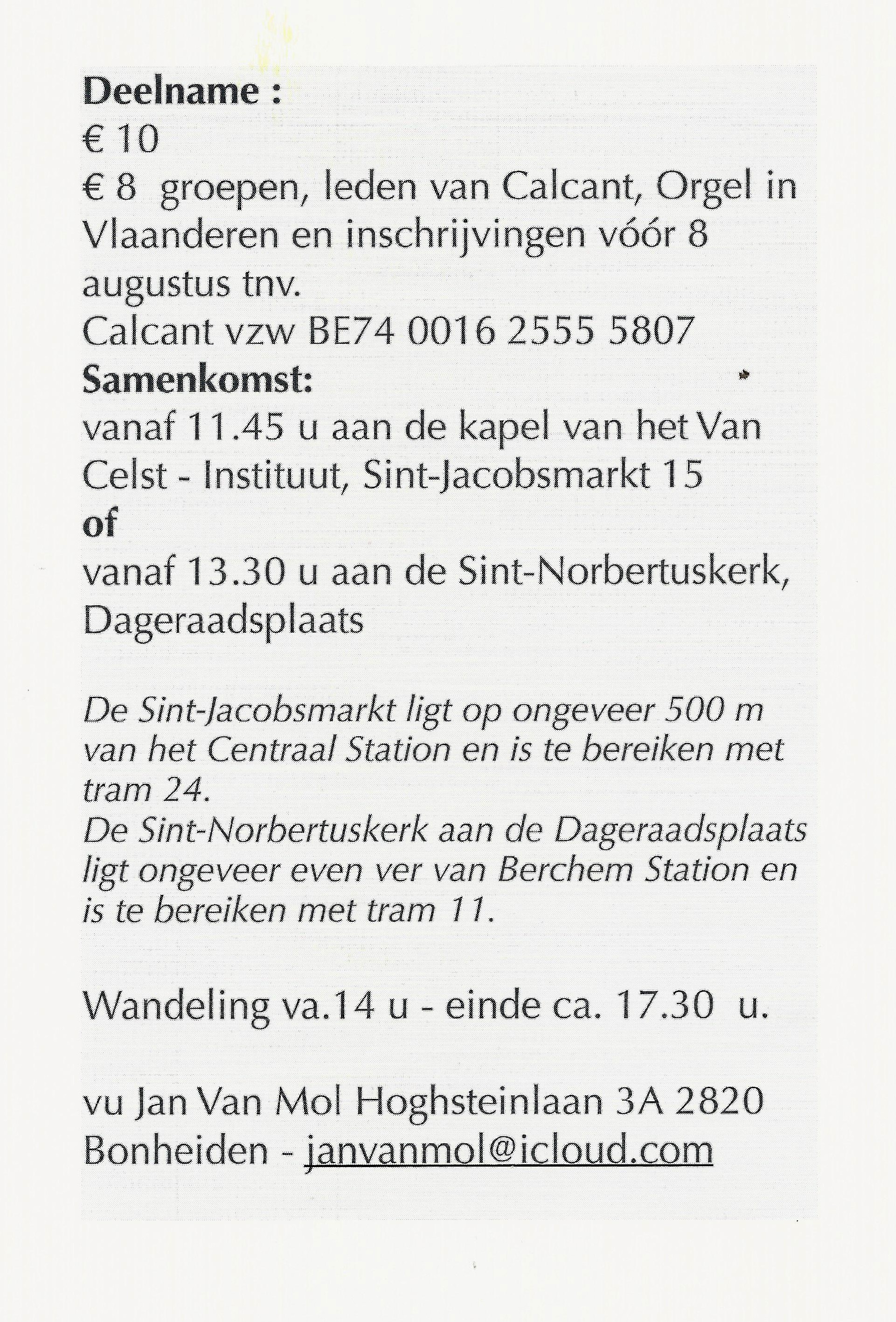 Translation:
Organ walk in Antwerp organized by Calcant
August 17, 2019
- At 12:15 pm: "Prélude à l'après-midi ..." in the Van Celst Institute Chapel, 15 Sint-Jacobsmarkt, 3000 Antwerpen
- From 2 pm:
* Sint Norbertus Church
* Walk around Cogels-Osylei
* Sint-Hubertus church
* Chapel of the Fraternity St Pius X, Helmelstraat
Participation: € 10, € 8/person for groups and members of Calcant, Orgel in Vlaanderen.
Registration before August 8 by deposit on the account of Calcant vzw: BE74 0016 2555 5807
Meeting at 11:45 am at the Institut Van Celst Chapel, 15 Sint Jacobsmarkt or at 1.30 pm at the Sint Norbertuskerk, Dageraadsplaats
This email address is being protected from spambots. You need JavaScript enabled to view it.
A collaboration between Calcant vzw and Pro Musica Pulchra - for beautiful music
Sint-Jakobusplein 15 2000 Antwerpen map