EXCEPTIONAL CONCERT SONORO QUARTET
Tuesday 25 May 2021, 19:00 - 21:00

Contact
This email address is being protected from spambots. You need JavaScript enabled to view it.
SONORO QUARTET
Trois générations à Vienne | Drie generaties in Wenen | three generations in Vienna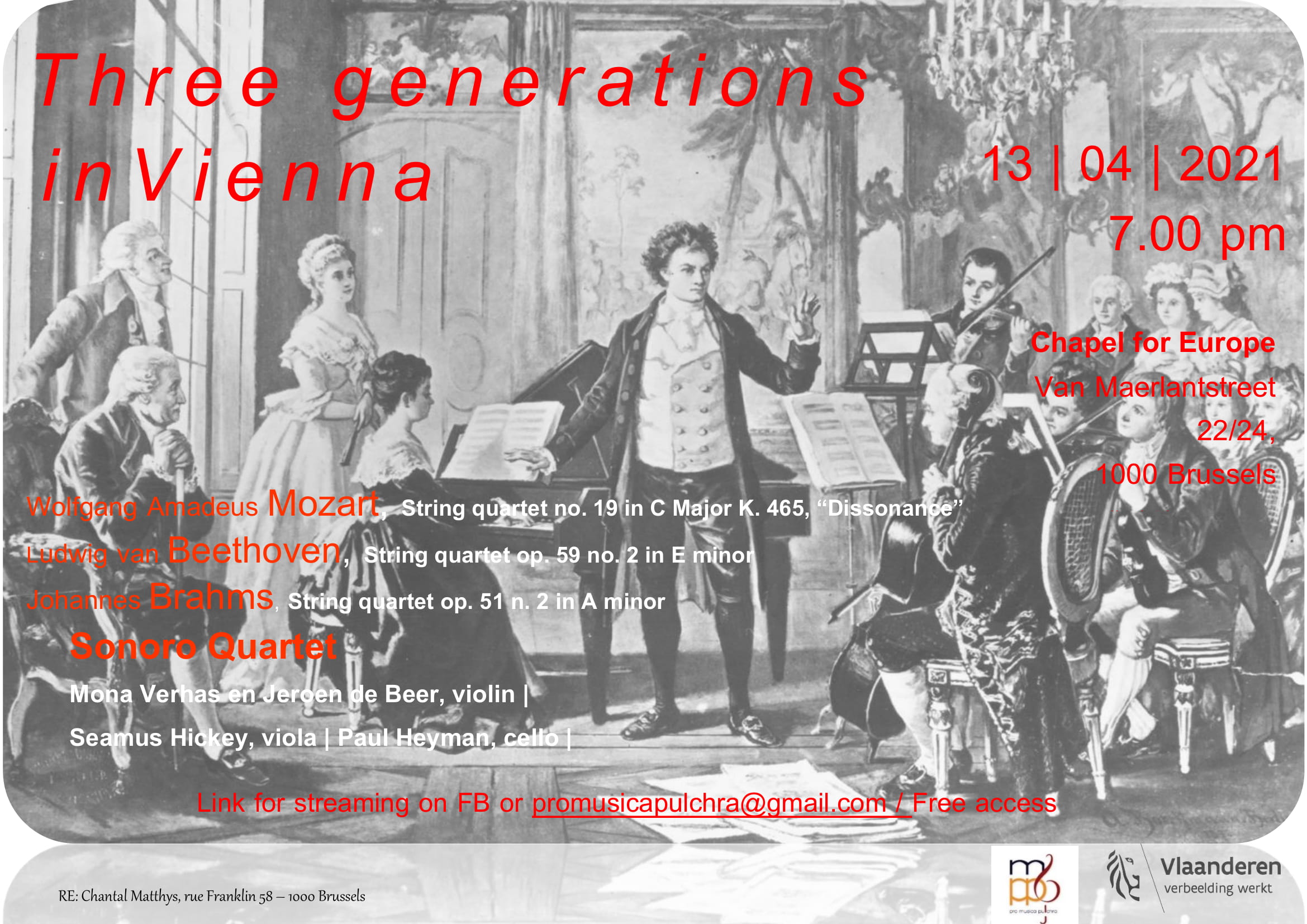 Wolfgang Amadeus MOZART, Ludwig van BEETHOVEN, Johannes BRAHMS
program sheet | à télécharger, imprimer | download, print
Wellicht is de boeiendste periode in de Weense muziekgeschiedenis de overgang van het classicisme naar de romantiek : op een periode van circa 60 jaar zag Wenen de transitie van het classicisme van Mozart en Haydn, via de revolutionaire overgangsfiguur Ludwig van Beethoven, naar de hoogromantiek van Johannes Brahms.
Op dit concert hoort u duidelijk deze transitie aan de hand van drie meesterwerken van de drie grote spilfiguren van die tijd : Mozart, Beethoven en Brahms.
La période de la transition du classicisme vers le romantisme a peut-être été la période la plus passionnante de l'histoire musicale à Vienne. Cette ville a vu, sur une période de 60 ans, le classicisme de Mozart et Haydn évoluer vers les sommets du romantisme avec Johannes Brahms en transitant par Ludwig van Beethoven, figure révolutionnaire.
Ce concert à l'écoute de chefs-d'œuvre de ces trois compositeurs charnières de l'époque vous montrera clairement cette transition.
The period marking the transition from Classicism to Romanticism was perhaps the most exciting period in Vienna musical history. This city has seen, over a period of 60 years, the classicism of Mozart and Haydn evolve towards the heights of romanticism from Johannes Brahms to Ludwig van Beethoven, a revolutionary figure.
During this concert, you will clearly understand this transition when listening to the masterpieces of these three pivotal composers of the time.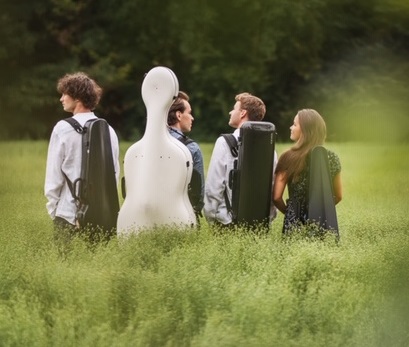 SONORO QUARTET
MONA VERHAS and JEROEN DE BEER, violin | SEAMUS HICKEY, viola | PAUL HEYMAN, cello
Het Sonoro Quartet werd opgericht in 2019 door vier beloftevolle en getalenteerde muzikanten: violisten Mona Verhas en Jeroen De Beer, altvioliste Séamus Hickey en cellist Paul Heyman.
Het Sonoro Quartet studeert momenteel aan de Nederlandse Strijkkwartet Academie in Amsterdam (NSKA) waar ze les volgen bij gerenomeerde leerkrachten zoals leden van het Danel kwartet, Eberhard Feltz, Hagen Quartet etc. Het kwartet neemt ook lessen aan het Orpheusinstituut in Gent en volgt op regelmatige basis masterclasses bij grootmeesters als Heime Müller (Artemis Quartet) en Marc Danel (Danel Kwartet). Het jonge kwartet speelde reeds in tal van mooie zalen zoals de Bijloke, Amuz, Desingel en was te gast op het Beethoven Festival 2020 waar ze de première uitvoerden van het eerste strijkkwartet van Eric Domench, dat werd opgenomen door de SWR televisie. Ook het komend seizoen zullen ze te horen zijn op nationale en internationale podia.
Na een programma volledig gewijd aan Schubert, zetten de vier jonge musici dit seizoen hun tanden in meesterwerken voor kwartet van Haydn, Brahms, Schumann en Shostakovich. Naast deze bekende werken is de missie van het Sonoro Quartet om zowel minder bekende als hedendaagse muziek in concert te brengen. Op die manier profileert het kwartet zich als een uniek ensemble dat steeds zijn grenzen verlegt en hun kleurenpalet blijft uitbreiden. Het steeds blijven vernieuwen en zoeken naar nieuwe klankkleuren heeft deze groep ook geïnspireerd tot het vinden van hun naam.

Wie zijn Mona Verhas, Jeroen De Beer, Seamus Hickey, Paul Heyman?
Le Sonoro Quartet a été fondé en 2019 par quatre musiciens prometteurs et talentueux, les violonistes Mona Verhas et Jeroen De Beer, l'altiste Séamus Hickey et le violoncelliste Paul Heyman.
Le Quatuor Sonoro étudie actuellement à la Netherlands String Quartet Academy à Amsterdam (NSKA) où ils prennent des cours auprès de professeurs renommés tels que notamment des membres du Danel Quartet, Eberhard Feltz, le Hagen Quartet. Le quatuor suit également des cours à l'Institut Orpheus de Gand et suit régulièrement des masterclasses avec des grands maîtres tels que Heime Müller (Artemis Quartet) et Marc Danel (Danel Kwartet). Le jeune quatuor s'est déjà produit dans des salles prestigieuses comme le Bijloke, Amuz, Desingel et a été invité au Festival Beethoven 2020 où ils ont créé le premier quatuor à cordes d'Eric Domench, concert enregistré par la télévision SWR. La prochaine saison les conduira sur des scènes nationales et internationales.
Après un programme entièrement consacré à Schubert, les quatre jeunes musiciens se penchent cette saison sur des chefs-d'œuvre écrits pour quatuor, à savoir le quatuor de Haydn, Brahms, Schumann et Chostakovitch. En plus de ces œuvres bien connues, le Quatuor Sonoro a pour objectif de proposer, lors de ses concerts, de la musique moins connue ainsi que de la musique contemporaine. Le quatuor se profile ainsi comme un ensemble unique qui ne cesse de repousser ses limites et d'élargir sa palette de couleurs. c'est l'innovation constante et la recherche de nouveaux timbres qui ont été à la base du nom du quatuor.
Qui sont Mona Verhas, Jeroen De Beer, Seamus Hickey, Paul Heyman?
Sonoro Quartet was founded in 2019 by four promising and talented musicians: violinists Mona Verhas and Jeroen De Beer, violist Séamus Hickey and cellist Paul Heyman. Despite the fact that they are a relatively young ensemble, they are already known for their virtuosity and energetic playing, balanced by their yet mature musicality.
Sonoro Quartet is currently studying at the Nederlandse Strijkkwartet Academie in Amsterdam (NSKA) where they take lessons with renowned professors such as the members of Danel Quartet, Eberhard Feltz, Hagen Quartet etc. The quartet is also taking lessons at Orpheusinstitute in Ghent and takes lessons on a regular base with renowned professors such as Heime Müller (Artemis Quartet) and Marc Danel (Danel Quartet). This young quartet played already in numerous halls such as De Bijloke, Amuz, Desingel and played on the Beethoven Festival 2020 in Bonn the première of the first string quartet by Eric Domenech which was recorded for the SWR Television. Also, in the next season they will perform on national and international stages.
After playing a program completely dedicated to Schubert, the four musicians will play this season masterpieces from Haydn, Brahms, Schumann and Shostakovich. Besides these famous works, they will also play known and less known modern music on stage. In that way, the quartet presents itself as a unique ensemble that constantly pushes their boundaries and keeps expanding their range of colors. The fact that they keep searching for new sounds inspired the group by finding their quartet name.
Who are Mona Verhas, Jeroen De Beer, Seamus Hickey, Paul Heyman?
Location
Chapel for Europe