DUO KIASMA (ex-Duo Made in Belgium)
Mercredi 12 Août 2020, 12:15 - 13:00

DUO KIASMA (ex Duo Made in Belgium)
PIERRE FONTENELLE, cello and FRIN WOLTER, accordion
Jean-Philippe RAMEAU, Dmitry SHOSTAKOVITCH
Video preview / program | à télécharger, imprimer | download, print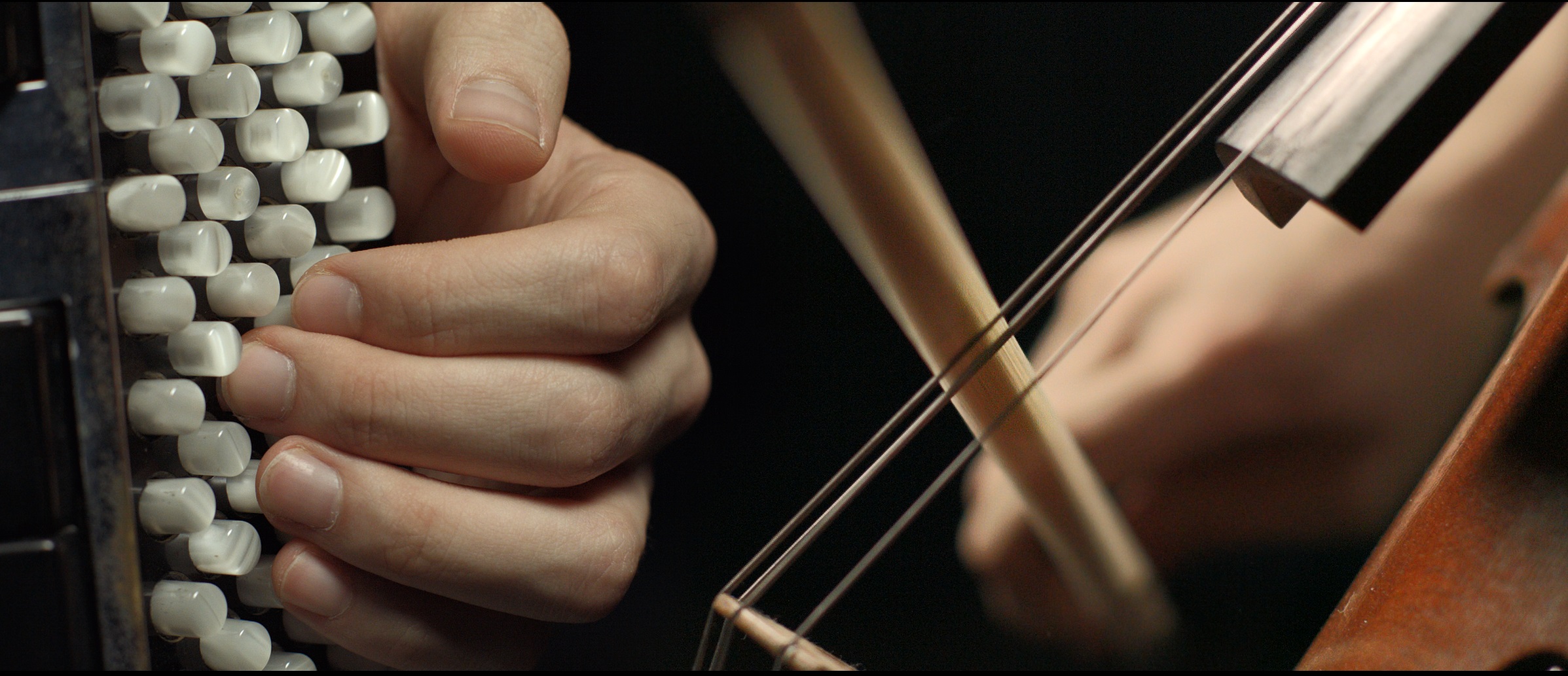 Duo Kiasma, nomade et sans port d'attache musical, voyage audacieusement à travers différents horizons stylistiques. Par leur créativité, leur spontanéité et leur modernité, les deux jeunes virtuoses Pierre Fontenelle et Frin Wolter surprennent leur public en combinant les sonorités de leurs instruments respectifs, le violoncelle et l'accordéon, dans un répertoire inclassable, reflet de leur vision transversale du rôle de l'interprète au XXIe siècle.
Initialement nommé Duo Made in Belgium suite à la rencontre de Pierre Fontenelle et l'accordéoniste moldave Cristian Perciun à Namur (Belgique), le duo se produit régulièrement en Belgique, en France et au Luxembourg et a été programmé dans des festivals tels que Les Fêtes de Wallonie, le Festival Accordé'Opale, Le Royal Juillet Musical de Saint-Hubert, ou Museum Night Fever. En décembre 2018, le Duo a participé aux Concerts de Noël de la Monnaie et de la Chapelle Musicale Reine Elisabeth, le projet culminant avec le traditionnel Concert de Noël au Palais Royal pour la Famille Royale belge.
En septembre 2019, Cristian Perciun s'envole pour une nouvelle vie. Après six mois de hiatus, le duo reprend vie avec l'accordéoniste luxembourgeois Frin Wolter. Tout en gardant sa vision originale, le duo est rebaptisé : Duo Kiasma.
En avril 2017, le Duo reçoit un Premier Prix / Médaille d'Or au 6ème Concours International d'accordéon Accordé'Opale (France) en Musique de Chambre. Individuellement, les deux musiciens sont lauréats de nombreux concours internationaux.
Duo Kiasma, nomadisch en zonder muzikale gehechtheid, reist dapper door verschillende stilistische horizonten. Door hun creativiteit, spontaniteit en moderniteit verrassen de twee jonge virtuozen Pierre Fontenelle en Frin Wolter hun publiek door de klanken van hun respectievelijke instrumenten, de cello en de accordeon, te combineren in een niet te classificeren repertoire. Dit is hun visioen van de rol van de tolk in de 21e eeuw.
Aanvankelijk genoemd Duo Made in Belgium na de ontmoeting van Pierre Fontenelle en de Moldavische accordeonspeler Cristian Perciun in Namen (België), treedt het duo regelmatig op in België, Frankrijk en Luxemburg en is geprogrammeerd op festivals als Les Fêtes de Wallonie, Le Festival Accordé'Opale, Le Royal Juillet Musical de Saint Hubert, of Museum Night Fever. In december 2018 nam het Duo deel aan de kerstconcerten van de Munt en de Muzikale Kapel van Koningin Elisabeth, culmineerde project met het traditionele kerstconcert in het Koninklijk Paleis voor de Koninklijke familie van België.
In september 2019 gaat Cristian Perciun op voor een nieuw leven. Na zes maanden van hiaat komt het duo weer tot leven met Luxemburgse accordeonist Frin Wolter. Terwijl het zijn oorspronkelijke visie behouden blijft, wordt het duo hernoemd: Duo Kiasma.
In april 2017 ontving het Duo een eerste Prijs/Gouden Medaille op de 6e Internationale Accordeonwedstrijd Accordeon'Opale (Frankrijk) in Chamber Music. Individueel hebben de twee muzikanten talloze internationale wedstrijden gewonnen.
Duo Kiasma, nomadic and without a musical home port, daringly travels through different stylistic horizons. Through their creativity, spontaneity and modernity, the two young virtuosos Pierre Fontenelle and Frin Wolter surprise their audience by combining the sounds of their respective instruments, the cello and the accordion, in an unclassifiable repertoire, reflecting their transversal vision of the performer role in the twenty-first century.
Initially named Duo Made in Belgium following the meeting of Pierre Fontenelle and Moldovan accordionist Cristian Perciun in Namur (Belgium), the duo performs regularly in Belgium, France and Luxembourg and has been programmed in festivals such as Les Fêtes de Wallonie, the Festival Accordé'Opale, the Royal Juillet Musical de Saint-Hubert, or Museum Night Fever. In December 2018, the Duo performed at the Christmas Concerts at La Monnaie and at the Queen Elisabeth Music Chapel, the project culminating with the traditional Christmas Concert at the Royal Palace for the Belgian Royal Family.
In September 2019, Cristian Perciun sets off for a new life. After six months of hiatus, the duo comes back to life with Luxembourgish accordionist Frin Wolter. While keeping its original vision, the duo is renamed: Duo Kiasma.
In April 2017, the Duo received a First Prize / Gold Medal at the 6th International Accordion Concours Accordé d'Opale (France) in Chamber Music. Individually, the two musicians are winners of numerous international competitions.
Lieu
Eglise sainte Catherine